Picasso's electrician found guilty of stealing artworks
Comments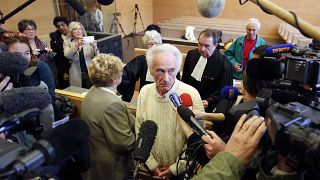 A court in Grasse, in the south of France, has found a couple guilty of stealing 271 artworks by Picasso. Pierre and Danielle Le Guennec were each given a two-year suspended sentence. The couple, who used to work for the artist, say he gave them the works as payment in kind.
Speaking in the courtroom, Pierre Le Guennec said that the most hurtful thing was that people thought he was a thief.
Picasso is known to have paid for goods and services by giving people small drawings and sketches, but Picasso's children Claude Picasso and Maya Widmaier-Picasso say this was not the case with the artist's former electrician.
Claude Picasso said: "We wanted to gather that art and then exhibit it in front of the public. In an organised, arranged, thoughtful manner."
Pierre and Danielle Le Guennec say they were given the artworks in a box which they kept in their garage for 40 years. Then, in 2009, they took it to the Picasso Administration's office in Paris (which acts on behalf of Picasso's heirs) to have the works authenticated. They were accused of stealing the works, which were confiscated and returned to the Picasso Administration.
The couple says however, that they are innocent, that the works were given to them and that they will appeal.