Iranians in London prepare to celebrate Persian New Year
Comments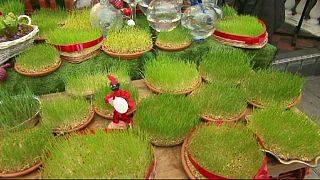 Iranians in London are preparing to celebrate the Persian New Year, Norouz.
Norouz was recognised in 2009 by UNESCO as part of Humanity's Intangible Cultural Heritage, and in 2010 the UN General Assembly recognized the International Day of Nowruz on March 21.
For more than 3,000 years, Norouz has celebrated the New Year and the first day of spring. It is observed by 300 million people across the Middle and Far East, although it originated in Iran and the territories of the Persian Empire.
Celebrations include special meals and family reunions as well as presents from elders – traditionally gold coins. Houses are decorated with hyacinths and green wheat.