Greece PM commits to providing list of reforms 'within days'
Comments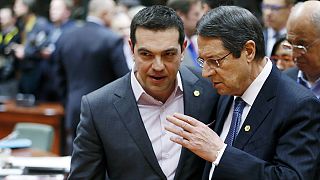 Greek Prime Minister Alexis Tsipras has committed to providing a list of specific reforms within the coming days.
European leaders have been frustrated at the slow pace of progress in exchange for their help in keeping Greece solvent.
Speaking after a late night meeting with EU officials last into the early hours of Friday (March 20) Tsipras said he felt "more optimistic" about what he called "a new deal" for Greece.
"There was a reassurement of the willingness of all sides to work so that the financing capacity of the Greek economy recovers as soon as possible," Tsipras told reporters after the three-hour meeting.
French President Francois Hollande said Greece must speed up progress to implement a deal to unlock further cash.
"We wanted to re-confirm this agreement, the procedure it entails, and even ask for it to be accelerated. That means reforms that can be presented as soon as possible by the Greek government in the frame of the compromise reached."
Greece agreed one month ago to push through reforms in exchange for EU help in keeping it solvent, but has delayed submitting the measures.
Isabel Silva, euronews correspondent, reported: "The prime minister of Greece will continue to try to convince European partners to respect the political turn dictated by elections, even if it is a few weeks away from going bankrupt. Next week will bring a new opportunity to meet with German chancellor during Tsipras visit to Berlin."