Vanuatu aid distribution may be too slow to feed cyclone survivors
Comments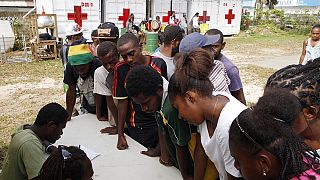 The islanders of cyclone-ravaged Vanuatu, after surviving one of the strongest storms on record last week now face running out of food, the government says because of a lack of aid coordination.
The more than 80 islands and 260,000 people weathered gusts of up to 300 kilometres per hour.
Albert Kalangis, Chairman of the Eton Village Disaster Board, said: "In three weeks time there will be no more food, for the villagers to survive. It will probably take two to three years for the families to recover."
Communications are mostly still out, compounding the logistical challenges of distribution. Although the provisional official death toll from Cyclone Pam was a mere 11 people, relief teams are concerned about the islanders' long-term survival.
The agriculture minister has said the destruction led his experts to conclude Vanuatu's people will run out of food in less than one week.