Indonesia delays death row hearings on two Australian drug convicts
Comments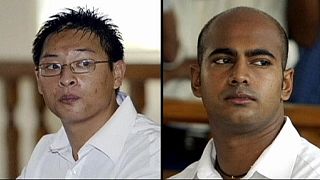 The fate of two convicted Australian drug smugglers still hangs in the balance after an Indonesian court postponed hearing death sentence arguments for another week.
The two are appealing against the rejection of their request for presidential clemency.
"Australia":http://www.euronews.com/newswires/2942800-indonesia-delays-transfer-of-australian-convicts-for-execution/ has been pursuing an eleventh-hour campaign to save the lives of two members of the so-called Bali Nine, but Presidebt Joko Widodo has refused to budge.
All the drug convicts are due to be executed together. Others in the group include citizens of France, Brazil, the Philippines, Ghana, Nigeria and Indonesia.