Israel election result 'continues deadlock in Middle East'
Comments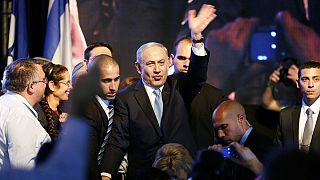 Likud, in spite of predictions, came out of Israel's elections ecstatic. What a party! Campaign headquarters went wild as its gains mounted. This proved earlier indications wrong — that Netanyahu's team competing against Herzog's Zionist Union were neck and neck.
Any way you look at it, it is continuation of stalemate, of deadlock, and in the Middle East, and especially in our region
When Benjamin Netanyahu showed himself, he looked assured of a fourth term as prime minister — his third consecutive. It's never happened in Israel before. Confident the president will ask him to form a new government, his continuation nevertheless sees Israel's dealings with the Palestinians and the international community in a sorry state.
Israel still faces stark challenges, analyst Amotz Asael underscored, forecasting the Likud leader — if reconfirmed — will need to demonstrate powers of a political contortionist.
Asael said: "This government will have many, many members, and they will each pull in a different direction, and managing it will be much more complex for Netanyahu than today's celebrations suggest."
The Israeli President Reuven Rivlin spoke out for a national unity government — of Likud and the Tzipi Livni/Isaac Herzog-led Zionist Union. They too will be negotiating hard, notably with the Kulanu party centrists led by Moshe Kahlon — who could lean left or could lean right. The hard right under Avigdor Lieberman, and the religious parties will have their own red lines.
The Palestinians, if they had been hoping for a Netanyahu collapse, received the results like a kick in the teeth. In an eleventh hour bid for Israeli conservative votes he dumped the "two state" principle for negotiations with the Palestinians.
Abdullah Abdullah, a Palestinian Authority official, summed up: "The old policy will continue. Netanyahu was very clear in his last days of the campaign that he will never allow a Palestinian state. He will not withdraw one centimetre from the occupied Palestinian territories. Jerusalem will stay united as the capital of Israel. That closes all the options for peace negotiations."
Netanyahu's two main themes were security and Iran's nuclear programme. But housing prices and the cost of living will demand any new government's attention, as a crucial concern of mainstream Israeli voters that cannot be indefinitely ignored.
We talked to Uri Dromi in Jerusalem, the founder-director of the Jerusalem Press Club and a former spokesman for the governments of Shimon Peres and Yitzhak Rabin in the 1990s.
Alasdair Sandford, euronews: "Were you surprised to see this triumph of Benjamin Netanyahu and Likud?"
Uri Dromi, former government spokesman: "I was indeed. All the polls predicted the slight victory for Labour and then when there was a draw I was still a bit surprised, but I looked at the possibility of Labour forming a coalition, and then in the morning I was really surprised — I'm sure like most Israelis and many people abroad — very surprised by the results."
euronews: "Benjamin Netanyahu made a lot of [emphasised] security, of threats to Israel. In the end, is it that message that paid off?"
Dromi: "I think Netanyahu managed, in a brilliant stroke, to get the [best of both] possible worlds. On one hand he is perceived as the one who will better stand against the security challenges, and at the same time, by embracing Kahlon and making him a senior minister in his future cabinet, he will also tell the Israelis that he is not indifferent to their grievances."
euronews: "What type of government to you expect to see formed in the next couple of weeks?"
Dromi: "We will have a centre-right government, leaning to the right, hawkish, but also sort of socialist on social-economic issues."
euronews: "Netanyahu has said 'no' to a Palestinian state and 'yes' to more settlements in the occupied territories. What will the effect of that be, do you think?"
Dromi: "First of all, for the Palestinians this is a signal that there is no Israeli partner [for such a dialogue]. [But,] by the way, the feeling of Israelis, across the board, is that there is no Palestinian partner.
"So, any way you look at it, it is continuation of stalemate, of deadlock, and in the Middle East, and especially in our region, and more specifically in our relations with the Palestinians, there is no vacuum [can be no vacuum].
"If there is no progress, then something must happen: either another intifada or more pressure through the UN, or even the collapse of the Palestinian Authority, and Abu Mazen [Mahmoud Abbas, President of the Palestinian Authority since 15 January 2005] or whoever succeeds him can say, 'Okay, enough with this, you want one state, so let's have one state in which Arabs may be 40-45 percent.' And that's the end of Israel as a Jewish and democratic state.
"This is something, this is an arena which doesn't tolerate a vacuum. Therefore, I find it difficult to imagine that Netanyahu will do nothing."