Latvia remembers WWII troops who fought against Soviet occupation
Comments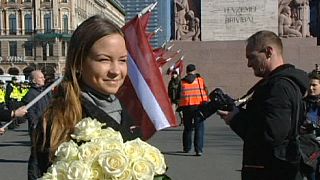 Several hundred people in the Latvian capital Riga have remembered soldiers who fought on the side of German forces against Soviet troops during World War II.
The procession started out from St.John's Church in Old Riga, where a church service was held, to the Freedom Monument in downtown Riga to lay flowers.
A large number of police officers were present.
The country remembers fallen Latvians on March 16 every year, but it's not an official commemoration day.
"I had never seen so much police. But I am glad that they are well dressed and that the state cares about us. Our enemy is very scared about the fact that we are not afraid."
Latvians commemorate fighting against Soviet occupation, however anti-fascist organisations object to what they call a glorification of Nazism.
Anti-Nazi activists dressed in overalls reading "disinfection" symbolically cleansed the area at the end of the procession around the city's Freedom Monument.