Pakistan: Christians protest after deadly blasts outside churches
Comments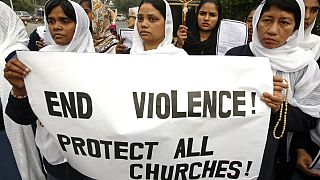 Two suicide bombers have reportedly blown themselves up in Lahore, killing more than a dozen people and injuring many more.
The attacks happened outside churches in a predominantly Christian area of the Pakistani city. A Taliban splinter group has claimed responsibility.
In the aftermath, police say angry mobs burned to death a man they suspected of being involved – and attempted to lynch another.
The attacks also unleashed anger in Karachi, where protesters burned tyres and chanted anti-terrorism slogans.
"We strongly condemn the act and we demand the government provides protection to all places of worship of all religions.Minorities are insecure and want security," said Father Bernard Yousus Bhatti, a local Christian community leader.
Many Christians, who make up less than two percent of Pakistan's population, accuse the government of not doing enough to keep them safe.
They claim politicians are quick to offer condolences after an attack, but are slow to improve security.