Brazil: At least 40 dead in mountain bus crash
Comments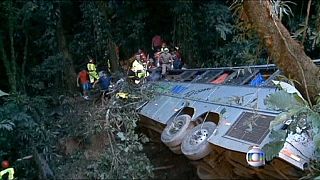 At least 40 people are reported dead in Brazil, after a bus plunged down a deep ravine.
It happened late on Saturday, in a mountainous area of Santa Catarina state.
Police think the driver may have lost control on a curve.
The bus – which was around 10 kilometres from its destination city of Joinville – fell dozens of metres, before crashing in a wooded area.
Around 50 people are understood to have been onboard at the time.