Severin Freund makes it three-in-a-row on the Holmenkollen ski jump in Oslo
Comments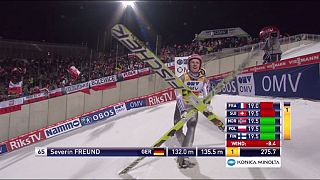 Severin Freund clinched his third successive win on Saturday, this one on the imposing Holmenkollen. The large hill World Champion sealed victory in Oslo with jumps of 132 and 135.5 metres.
"It was a lot of fun again today, but I had some luck with the wind conditions," he admitted after the event.
And his victory was with the narrowest of margins once again pipping his main rival in the overall World Cup Peter Prevc.
The Slovenian put in jumps of 130 and 138 metres which took him to within 0.3 points of the German. "In the final I had luck with the conditions and was jumping really well. But Severin is showing almost perfect performances," Prevc said.
In the race for the Crystal Globe Freund is now 54 points ahead of the Slovenian.
Local hero Runa Velta came in third. The Normal hill World Champion jumped 128.5 and 135.5 metres. The Norwegian said, "I am happy that I was on the podium again. This winter is going really well for me so far and I am aiming for the podium again on Sunday."
So too will Severin Freund when they all compete on Holmenkollen before heading off to Planica for the season's end next week.