Screams from baby boy's siblings foil attempted abduction
Comments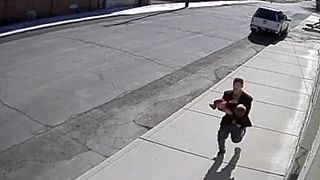 A baby boy who was seen on video being abducted by a man in a park in the US state of Washington was saved thanks to his two young siblings screaming and giving chase, authorities said.
Law enforcement officers said the man was captured on video as he approached the 22-month-old boy and his two siblings on Sunday as they played unattended at a small town park in eastern Washington state, the Lincoln County Sheriff's Office said.
The man began chatting with the toddler's 10-year-old brother and 8-year-old sister then grabbed the baby from his stroller and ran, in a crime Sheriff Wade Magers characterised as a "random attempted abduction."
Surveillance video from a local grocery store showed the man running with the toddler, with the toddler's sister chasing him a half-block behind.
"The older children began screaming and pursued the suspect. Suspect ran a couple of blocks, and some teenagers nearby were attracted by the commotion," the sheriff's office said in a statement.
"As they approached, suspect put the child down and fled on foot. Although pursued by onlookers, he escaped," the statement added. The sheriff's office said deputies have since increased area patrols and that schools have been alerted.
The child was recovered unharmed and reunited with his family, authorities said. The children's actions have drawn credit from law enforcement and the community in helping foil the abduction.
Local deputies said the the actions of the siblings likely changed the outcome of the situation.
The children's parents had left them at the home of a babysitter who allowed them to go out and play alone in a park behind the house, authorities said.