Gandhi statue unveiled in Parliament Square, London
Comments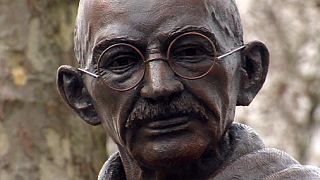 A statue of Indian independence leader Mahatma Gandhi was unveiled on Saturday (March 14) in London's Parliament Square, a place packed mostly with monuments to men who served the British Empire that Gandhi helped destroy.
"Nations transcend bitterness and acrimony. In Parliament Square, there is also a statue of Sir Winston Churchill, arguably the man who opposed Gandhi most resolutely. Some would detect an irony in the great prime minister sharing a public space with the man he once described as a half-naked fakir," said Indian Finance Minister Arun Jaitley who was in London on a two-day visit.
Churchill famously called Gandhi "a seditious Middle Temple lawyer, now posing as a fakir of a type well known in the east, striding half-naked up the steps of the Vice-regal palace."
But almost seven decades after India won independence from Britain in 1947, thanks in a large part to Gandhi's peaceful civil disobedience campaign, relations between the two countries are strong, with both keen to boost economic ties.
Indian Finance Minister Arun Jaitley unveiled the nine-foot-tall statue opposite the British parliament, marking the 100th anniversary of Gandhi's return to India from South Africa to start the struggle for self rule.
British Prime Minister David Cameron said the bronze statue, made by British sculptor Philip Jackson, was inspired by Gandhi's visit to the residence of the British prime minister.
"The image of Gandhi we see today is based on a picture of him on the steps of Downing Street in 1931. On that same visit, he also went to see King George the fifth. Arriving bare-chested in his dhoti, and marching ahead with his stick, Gandhi was asked if he felt underdressed. And he replied, 'The king is dressed for both of us.'," said Cameron.
Although the square is mostly filled with statues of former British prime ministers, Gandhi has been placed close to monuments of former U.S. President Abraham Lincoln and South African President Nelson Mandela.