Wikileaks' Julian Assange accepts Swedish prosecutors request
Comments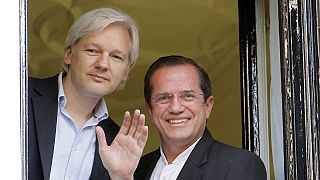 Julian Assange's lawyer says the Wikileaks founder has accepted a request from Swedish prosecutors to be questioned in London over sexual assault charges.
Assange has been holed up in the Ecuadorian embassy for three years over fears he would be extradited to the US. During his time at the embassy he invited the prosecutors four times to question him there.
For his lawyer Per Samuelson, the u-turn represents a small victory but he questioned the prosecutor's wisdom in waiting so long.
"The bottom line is, after the autumn of 2010, the prosecutor did nothing for more than four years – that's clear breach of Swedish law. That has hurt Mr Assange severely and it has also hurt both of the women who have not had their case tried for over four years and it hurts the court because witnesses forget, time passes on and all the evidence is much worse now than it was back in 2010."
The change in strategy comes as the charges against Assange are due to expire in August under Swedish law.
The Australian sought asylum in the Ecuadorian embassy over fears that if Britain extradited him to Sweden for questioning, he could then be sent to the US where he could be tried for one of the largest information leaks in American history.