South Pacific's Vanuatu braces itself for Cyclone Pam
Comments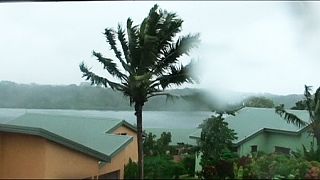 A destructive tropical cyclone is hurtling towards the South Pacific island nation of Vanuatu.
Cyclone Pam has been upgraded to a category five storm, the most severe rating, packing winds of up to 185 kilometres per hour and heavy rain.
The extreme weather is not expected to directly hit land, instead brushing past Vanuatu, but there are fears about its force.
"What we are really worried about is that sort of wind could do extreme damage. Rip roofs off, destroy houses, pull trees out, power lines down and there's also the storm surge that can come in with storms like this," said Karen Olsen, a Television New Zealand meteorologist.
Pam's impact is expected to be felt most in the capital Port Vila.
The cyclone has already left a trail of destruction elsewhere in the Pacific, including Kiribati and the Solomon Islands.