Deadline looms for Kyiv's decision for special status regions in east Ukraine
Comments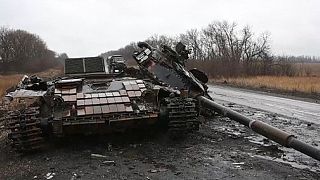 Separatists in the east of Ukraine are threatening to breach the ceasefire if Kyiv fails to adopt measures giving the break-away regions special status.
The ultimatum refers to the Minsk agreement which states that the Ukrainian government must publish a list of areas with special status by Saturday.
"Kyiv has in fact 24 hours left to fulfil its part of the obligations (in the Minsk agreements)," explained Denis Pushlin, spokesman of the self-proclaimed Donetsk People's Republic. "If the ordered decision isn't passed in the Verkhovna Rada (parliament) in 24 hours, it will become obvious to the entire world that Kyiv is not prepared to keep to the road map prescribed in Minsk."
The key city of Debaltseve has seen some of the fiercest fighting, with much of it being reduced to ruins. However its future remains unclear as only those cities already under rebel control when the September 19 Minsk deal was signed should be considered for special status.
For those living in the embattled city, the details of the Minsk document are of little importance.
"For me, I don't care whether it's the self-proclaimed 'Donetsk People's Republic' or the self-proclaimed 'Luhansk People's Republic'," said one resident adding, "if they gave people a good life, with a good pension, work. It's all the same to me. Just let the people live well."
Another resident said that after losing her mother in the fighting she didn't really see Debaltseve as part of Ukraine.
The rebel's ultimatum is the latest in a string of threats but the stakes are high, with more lives on the line and an IMF loan in doubt should the ceasefire fail.