94-year-old Japanese battleship attack survivor finds his shipwreck
Comments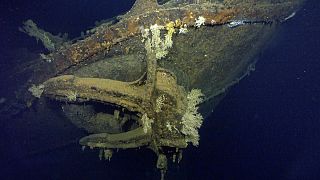 A 94 year-old survivor of the Japanese battleship Musashi is certain the wreckage found by a US research team is that of the ship he was aboard 71 years ago when it was sunk by US forces.
Shigeru Nakajima on Friday watched a live streaming video tour provided by billionaire Paul G. Allen's exploration team.
Allen's team, after eight years of searching, have said they found the wreck of the Musashi earlier in March – at a depth of one kilometre (3,280 feet) in the Sibuyan Sea.
"I am certain that this is the Musashi by now looking at the images such as the anchor, the imperial seal of the chrysanthemum," Nakajima told the Associated Press as he watched the live streaming video near his home in Chiba Prefecture, northeast of Tokyo.
The Musashi, commissioned in 1942, sank in October 1944 in the Sibuyan Sea during the Battle of Leyte, losing half of its 2,400 crew members.
Nakajima was an electrical technician for the sub battery on the vessel.
He survived the torpedo attack by jumping into the water as he was ordered to evacuate by his senior officer.
Nakajima, who became the chef at the US Embassy in Tokyo after the war, said he had no word but "thank you" for the US team that found the wreckage.
Nakajima said the news of the discovery should delight Musashi's captain, Toshihira Inoguchi, and other crews who went down with the battleship, "in heaven".