Spain's ghost airport set for first flights - four years after it 'opened'
Comments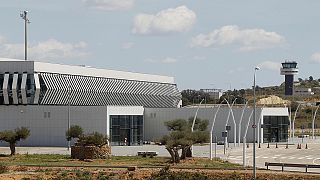 It's one of the swanky symbols of Spain's building bonanza and subsequent crash.
Castellón's 150-million euro airport, around 70km north of Valencia, was inaugurated in March 2011.
Now, four years on, it is finally set to welcome its first commercial flights.
Irish budget airline Ryanair said this week it would begin flying between Castellón and Britain from September.
The airport was the project of local People's Party (PP) politician, Carlos Fabra, now serving time in jail for tax fraud, according to news agency Reuters. It became a symbol of how Spain's regional governments rashly spent billions on grand projects in the boom years.
SNC-Lavalin, the Canadian company that manages the airport, said: "These two direct lines mark a major step in the development of Castellón airport, but also for the whole tourism in the Valencia region. The proposed offer by Ryanair alone will account for about 18,000 passengers for 2015."
Ryanair, which will begin selling flights on Friday, say it will fly between Castellón and two UK airports, Bristol and Stansted
The budget airline handled nearly 32 million passengers in Spain last year, more than any other airline, official data shows.
The Irish company, with one of the lowest cost structures amongst European airlines, has the ability to drive growth to smaller airports as it did with the Bergamo airport outside Milan in Italy, said analyst Mark Simpson of brokers Goodbody.
"There are a lot of airports in Europe who want to talk to Ryanair because they see them as an anchor tenant who can help stimulate the market,' he said.
The Castellón authorities hope the flights will boost tourism to the coastal area north of Valencia.
Tourism accounts for over 10 percent of Spain's economic output.
FIVEOTHERPROJECTSTHATHAVERUNINTOTROUBLE




CIUDAD

REAL

AIRPORT

,

NEAR

MADRID

It's the one billion euro airport with a runway big enough to land an Airbus 380, one of the world's biggest airliners.

The airport opened in 2008. Two years later just a couple of operators were using it. In 2011 it closed down.

Castilla-La Mancha savings bank, a 68% shareholder in the scheme, was reportedly driven into bankruptcy by the airport.

The airport failed to attract a buyer at its eighth public auction in January.






CITY

OF

ARTS

AND

SCIENCES

,

VALENCIA

Valencia's architectural gem – consisting of theatres, galleries and cinemas – has also been controversial.

It's alleged the complex has cost taxpayers one-billion euros – the project's bill has trebled from the initial 300-million euro price tag.




TOLEDO

TO

CUENCA

RAIL

LINK

The high-speed rail link was inaugurated in December 2010. But around six months later it had been closed down, with part of the route attracting just nine people a day. The operation of the line cost 18,000 euros a day.




CITY

OF

CULTURE

,

GALICIA

The 400-million euro complex in Santiago de Compostela reportedly cost four-times more than initial estimates.

Part of the complex, including a newspaper archive and library, opened in 2011.

The final two buildings in the project were scrapped in 2013.




THE

OSCAR

NIEMEYER

INTERNATIONAL

CULTURAL

CENTRE

,

AVILES

The stunning 44-million euro centre – designed by Brazilian architect Oscar Niemeyer and opened in 2011 – had to close after six months amid a row over its running costs. It was later re-opened.

This stunning building is The Oscar Neimeyer International Cultural Centre in Aviles, Spain #architecture#wowpic.twitter.com/1baRdiDmEF

— Michala Rudman (@MichalaRudman) August 6, 2014