France steps up role in probing deadly 'reality TV' helicopter crash
Comments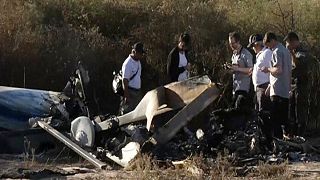 Air accident investigators from France are already at the scene.
Now five French police officers have reportedly been sent to Argentina to help probe Monday's deadly helicopter crash in the remote and rugged western province of La Rioja during the filming of a reality TV show.
Ten people died when two helicopters collided at low altitude – both Argentinian pilots, five members of the French TV production crew and three French sporting stars.
Like them, skater Philippe Candeloro was taking part in the adventure programme 'Dropped' for France's TF1 channel. On location when the crash happened, he and others are being interviewed.
"We are making ourselves fully available to the authorities, hoping that they will do their work as quickly as possible because our families also want to hug us," he said.
"Our suffering of course will never be the same as the families of the victims. We must not only think of the three great sports stars we have lost but also the production team and the pilots who were with us."
French psychologists have been brought in to help those involved in the programme.
Contestants and crew members have remained in their hotel, some 30 kilometres from the crash scene, waiting for the green light from Argentinian authorities to return to France.
The dead athletes were the focus of Wednesday's tribute at France's National Institute for Sports, with grieving family members in attendance.
French sports events nationwide this weekend will also remember yachtswoman Florence Arthaud, 57, boxer Alexis Vastine, 28 and 25-year-old swimmer Camille Muffat, a gold medal winner at the London 2012 Olympic Games.