Fantasy author Terry Pratchett dies at 66
Comments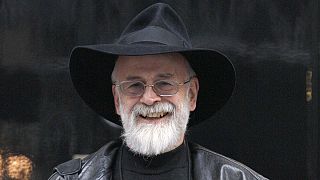 Terry Pratchett, the British author of the popular "Discworld" series of fantasy novels, has died of a form of Alzheimer's disease at the age of 66, his publishing house said on Thursday.
If I knew that I could die, I would live. My life, my death, my choice.
Pratchett died at home surrounded by his family with his cat sleeping on his bed, Transworld Publishers said.
"In over 70 books, Terry enriched the planet like few before him," said Larry Finlay, managing director at Transworld, a division of Penguin Random House.
Sad to hear of Sir Terry Pratchett's death, his books fired the imagination of millions and he fearlessly campaigned for dementia awareness.

— David Cameron (@David_Cameron) March 12, 2015
"As all who read him know, Discworld was his vehicle to satirise this world. He did so brilliantly, with great skill, enormous humour and constant invention," he said.
The author, who sold tens of millions of books worldwide, was diagnosed with posterior cortical atrophy (PCA), a progressive degenerative condition, in 2007.
He had continued to write, completing his last book, a new Discworld novel, in the summer of 2014 before succumbing to the final stages of the disease.
"It's not worth doing something unless someone, somewhere, would much rather you weren't doing it." RIP the brilliant Terry Pratchett.

— Ricky Gervais (@rickygervais) March 12, 2015
Pratchett had become a high-profile campaigner for the legalisation of assisted death.
"I would like to die peacefully with Thomas Tallis on my iPod before the disease takes me over and I hope that will not be for quite some time to come, because if I knew that I could die at any time I wanted, then suddenly every day would be as precious as a million pounds," he said in a lecture in 2010.
"If I knew that I could die, I would live. My life, my death, my choice."
I think I just felt the whole planet wobble, as if some cosmic elephant went down on its knees.#terrypratchetthttp://t.co/JDta8oSZSp

— Dave Wilson (@davedwelling) March 12, 2015
I can't imagine a 13-year-old alive who wouldn't be changed a bit, for the better, by reading Terry Pratchett.

— Caitlin Moran (@caitlinmoran) March 12, 2015