Silvio Berlusconi has his acquittal in the Rubygate affair upheld
Comments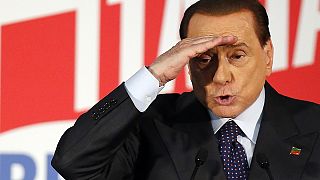 Former Italian Prime Minister Silvio Berlusconi has had his acquittal in the so-called "Rubygate affair", upheld by the country's highest court.
The 78-year-old had been convicted and sentenced to seven years in jail in 2013 but that ruling was overturned last year.
The Rome court's decision is now definitive and it rejected an application by prosecutors for a new trial.
Berlusconi had been accused of abuse of office and of paying for sex with a former teenage nightclub dancer Kharima El Mahroug, known by her stage name "Ruby the Heartstealer".
The alleged misdemeners had taken place during what have become known as " bunga bunga" exotic parties while he was prime minister in 2010.
Berlusconi is also under investigation for allegedly bribing women who attended his parties into giving false testimonies in the Ruby trial.
Berlusconi has rejected any responsibility, claiming that he merely hosted "elegant dinners" at his villa outside Milan.