Orthodox Jewish women's party B'Zchutan joins Israel election race
Comments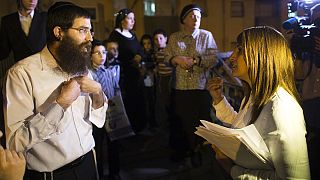 Less than a week before the Israeli election, a Jewish ultra-Orthodox women's party has entered the race, challenging traditional beliefs about the role of women in society.
We chose to represent the unheard voice of Orthodox women
B'Zchutan, which means "Thanks to them" in Hebrew and refers to women who have challenged the status quo, is putting forward nine candidates for the 210-seat Knesset in the ballot on March 17.
It wants ultra-Orthodox women to have the same rights as secular women, including better access to employment and education.
"We want to give women more support, a real person to turn to inside the Knesset. So women would know there is an answer. The State of Israel has failed to protect the Haredi (Orthodox) women," said the B'Zchutan party leader, Ruth Colian.
Noa Erez, another candidate on the B'Zchutan list, added:
"We chose to represent the unheard voice of Orthodox women. Ultra Orthodox women suffer from violence, suffer from discrimination and nobody cares."
Campaigning in Beit Shemesh, a town 35 kilometres west of Jerusalem with a large Haredi population, the party met resistance.
"A real religious woman usually has a husband, and her husband has a mouth, and her husband could work for her to publicise what she wants and what she thinks and they work together in the home. And the woman that doesn't believe that her place is in the home, she sees herself in a higher place than her husband is, this is a problem," said a Jewish woman who did not want to give her name.
Beit Shemesh gained notoriety in 2011 after an eight-year-old girl from a more liberal religious community was spat at by ultra-Orthodox men who deemed her clothes immodest. Several protests, some violent, have erupted over religious issues since.
Recent polls have suggested the party's chances of getting a candidate elected are slim.
The Haredi community makes up about 10 percent of Israel's population.
People are mostly poor and unemployed, with many men pursuing religious studies.
Only one Haredi woman, Racheli Ibenboim, has served in the Knesset so far representing left-wing Meretz Party. In 2013 she said that she had to withdraw her candidacy for the Jerusalem City Council after she and her family had received threats from the community.