Venezuelan president launches verbal tirade against Obama
Comments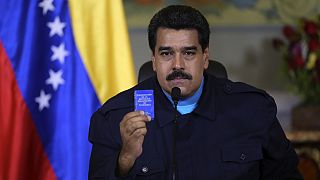 "President Barack Obama, in the name of the US imperialist elite, has decided to personally take on the task of defeating my government," Venezuelan President Nicolas Maduro has declared.
The leader was responding to the US announcement that Venezuela is considered a national security threat. Barack Obama has also ordered sanctions against seven officials.
"Today, President Barack Obama has taken the most aggressive, unjust and harmful step that has ever been taken by the US against Venezuela," said Maduro.
During a two-hour speech, the head of state declared he would seek decree powers to counter the threat posed by the US. Maduro accused his American counterpart of "imperial arrogance", saying he had made a "colossal mistake", and also called home the Venezuelan chargé d'affaires from Washington.
One of the sanctioned officials was Gustavo Gonzalez, the head of state intelligence service Sebin. He has now been appointed Venezuela's new Interior Minister.
Fuelled tensions
The move to impose embargoes has fuelled tensions between the two nations at a time when US relations with key Venezuelan ally Cuba are starting to thaw.
US officials insist the energy sector and broader economy have not been penalised.
Rather, White House spokesman Josh Earnest says the sanctions target individuals who have "violated the human rights of Venezuelan citizens" or have "engaged in acts of public corruption."
The order, according to the White House, is aimed at people whose actions undermine democratic processes, those who are deemed to have committed acts of violence or human rights abuses, people involved in prohibiting or penalising freedom of expression or were government officials involved in public corruption.