Student protesters clash with riot police in Myanmar
Comments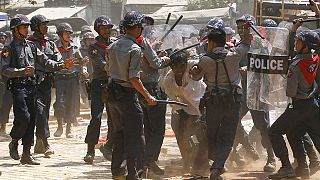 A stand-off of more than a week between students and police has erupted into violence in Myanmar.
Riot officers lashed out with batons as some 200 students tried to break through blockades and pursue a march in protest at education reforms.
Several people have been detained and injuries are reported.
Trouble flared in the town of Letpadan more than a month after the students had set off on foot from the central city of Mandalay, bound for Yangon, formerly Rangoon.
Police had initially said the march could continue on Tuesday but the agreement fell apart.
Officers chased the students and monks joining them into a Buddhist monastery where they had taken refuge, said a Reuters witness.
The witness saw police using batons to smash the windows of a car belonging to a student and an ambulance where some protesters had taken shelter.
Students claim the reforms will overcentralise education and stifle student unions in the country that is also known as Burma.