Romania left red-faced after France-Germany map gaffe
Comments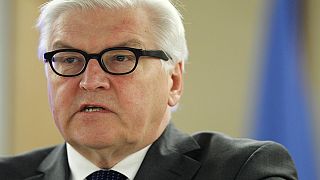 Romania's foreign minister has apologised after a diplomatic gaffe during a meeting with his German counterpart.
Bogdan Aurescu expressed his regret after handing Germany's foreign minister a commemorative booklet with a map of France covered in the German flag.
It's the second time in just over a month Romania's foreign ministry has had to apologise for a mistake.
The latest gaffe came at a news conference to mark the visit of Germany's foreign minister Frank-Walter Steinmeier, pictured above, to Romania.
The booklet was intended to commemorate 135 years of diplomatic relations between Germany and Romania.
"Due to a regrettable technical error, exclusively on the cover of the booklet, the border of the maps of Romania and France – with the latter being covered by the German flag – was printed," the ministry said in a statement.
"The Romanian foreign minister has directly conveyed profound regret for this situation to his German counterpart."
Romania's national news agency Agerpres, which produced the booklet, also issued an apology.
In February the Romanian embassy in Paris sent out invitations for a reception and accidentally attached a spreadsheet with unflattering descriptions of guests such as "undesirable" or "ghastly".