Moscow 'completely' ends actions under CFE arms treaty
Comments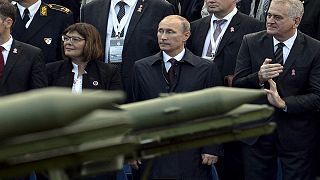 Russia has announced that it is "completely" ending actions under an arms control agreement.
The Treaty on Conventional Armed Forces in Europe (CFE) limits heavy military equipment in Europe, such as tanks, aircraft and weapons.
In a statement released by the foreign ministry, Moscow said that it would no longer take part in consultation meetings.
The CFE agreement was signed in 1990 and, 17 years later, Vladimir Putin signed a law suspending Russia's participation, citing security concerns for the move.
The Kremlin said at the time that it could no longer tolerate a situation where it was complying with the treaty, but its partners were not.