Help Hubble celebrate 25 years in orbit: Select a snap from space
Comments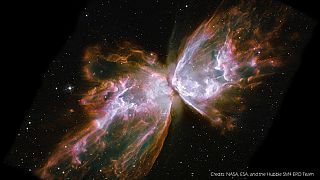 Next month, the famous Hubble Space Telescope will mark 25 years of groundbreaking observations.
A series of events are being held to celebrate its birthday, including a chance for members of the public to vote for their favourite Hubble picture.
Folllow on Twitter #HubbleMania
The Hubble Space Telescope is an international cooperation project between NASA and the ESA (European Space Agency).
If you still need convincing that its achievements are out of this world, let NASA spell it out for you
Some Hubble Facts from
NASA
NASA

's Hubble Space Telescope was launched on April 24, 1990 on the space shuttle Discovery from Kennedy Space Station.
Hubble has made more than 1 million observations since its mission began in 1990.
Astronomers using Hubble data have published more than 12,700 scientific papers, making it one of the most productive scientific instruments ever built.
Hubble has peered back into the very distant past, to locations more than 13.4 billion light years from Earth.
Hubble is 13.3 metres long — the length of a large school bus.