Saudi Arabia named 'world's biggest importer of weapons'
Comments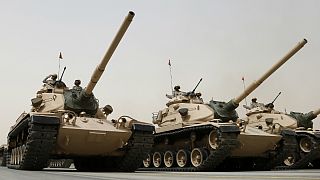 Saudi Arabia replaced India last year to become the biggest arms importer in the world, according to a new report on international defence spending.
Research company IHS said Saudi imports increased 54 percent between 2013 and 2014, and based on planned deliveries, imports will grow 52 percent to $9.8 billion (9 billion euros) in 2015.
"Growth in Saudi Arabia has been dramatic and, based on previous orders, these numbers are not going to slow down," an IHS statement quoted its senior defence analyst Ben Moores as saying.
The report adds: "Saudi Arabia and UAE together imported $8.6 billion (8 billion euros)in defence systems in 2014, more than the imports of Western Europe combined."
Top defence importers, 2014
1. Saudi Arabia
2. India
3. China
4.

UAE

5. Taiwan
6. Australia
7. South Korea
8. Indonesia
9. Turkey
10. Pakistan
Both Saudi Arabia and the United Arab Emirates (
UAE
) are part of a US-led coalition involved in air strikes on Islamist fighters who have seized swathes of territory in Iraq and Syria.The militants have vowed to topple the governments of Western-allied countries in the Middle East.
The United States remained the top defence exporter in 2014, ahead of Russia, France, Britain and Germany, in a top-five ranking unchanged from 2013, the annual study found.
IHS, a provider of global market and economic information, said the growth in supplies was due to expanding demand from emerging economies for military aircraft and rising tensions in the Middle East and Asia Pacific.
Key Findings of the
IHS

Report on Defence Spending
Global spending on defence systems has risen for the past 6 years and now stands at $64.4 billion (59 billion euros)
One in every $7 dollars (6.5 euros) spent on defence imports in 2015 will be spent by Saudi Arabia
Saudi Arabia and the

UAE

together spend more on arms imports than the whole of western Europe
The biggest beneficiary of the Middle Eastern market is the US, with $8.4 billion (7.7 billion euros) worth of exports to the region in 2014.
1/3 of all arms exports come from the US