UN base comes under attack in Mali
Comments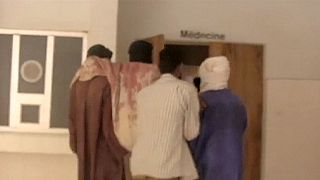 Unknown attackers fired more than thirty rockets at a United Nations base in northern Mali early on Sunday (March 8).
One UN peacekeeper was killed and eight others injured in the attack on the outskirts of Kidal.
French forces helped retake Mali's desert north from al Qaeda-linked militants two years ago.
At least one rocket hit a nearby camp for Tuareg and Arab nomads.
"We were sleeping when the rockets fell," camp resident Rhissa Ag said. "Three rockets landed near us and a third fell just outside my house. Two are dead and three are seriously injured, including my wife."
UN and French troops who share the base returned fire and sent air support.
The incident is the third attack in the country this weekend, and comes as the UN is trying to reach a peace agreement with Tuareg separatists for the desert north.