Frozen mummified remains discovered in Mexico
Comments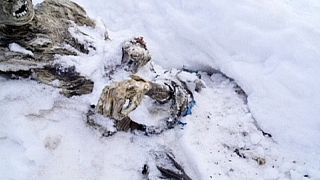 Climbers made a gruesome discovery whilst ascending Mexico's highest peak when they came across a mummified head earlier this week.
Rescue crews sent to excavate discovered the remains of two bodies on Pico de Orizaba.
They believe they could be the two climbers who went missing during an avalanche in 1959. There could be a third body, as three climbers were reported missing at the time.
When officials went to investigate the discovery of the head, they were surprised to find two bodies which were embracing one another.
#ESTADOS Hombres momificados en Pico de Orizaba estaban abrazados http://t.co/NlFh087BkWpic.twitter.com/pVuA8InEC0

— La Silla Rota (@lasillarota) March 7, 2015