Austrian panel rules against returning Beethoven Frieze to Jewish heirs
Comments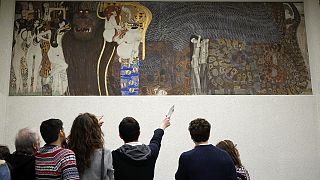 An Austrian panel has ruled that one of Gustav Klimt's most famous works should not be returned to the heirs of its original Jewish owners.
The Beethoven Frieze was stolen by the Nazis but returned to the family at the end of World War II however they argue an export ban forced them to sell it at cut-price value.
The work, based on Richard Wagner's interpretation of Beethoven's Ninth Symphony is on permanent display at the Secession Building in Vienna.