Edward Snowden makes Switzerland asylum appeal
Comments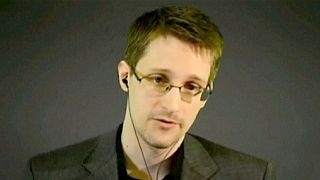 Edward Snowden has made a public appeal for Switzerland to grant him asylum.
The fugitive former US spy agency contractor told an audience in Geneva that he would like to live in the Swiss city, where he once worked undercover for the CIA.
He spoke from Moscow via video link after a viewing of "Citizenfour", an Oscar-winning documentary about his case.
"I would love to return to Switzerland, some of my favourite memories are from Geneva. It's a wonderful place," he told the International Film Festival and Forum on Human Rights on Thursday night.
"I do think Switzerland would be a sort of great political option because it has a history of neutrality," he said, praising its multicultural diversity and human rights record.
Snowden, wanted by Washington for leaking details of US mass surveillance programmes, said he had appealed to 21 countries, "the majority in central and Western Europe", for asylum after the US cancelled his passport and he was stopped from going to Ecuador.
"Unfortunately no country said yes," he said, blaming "political interference" by the Obama administration.
Snowden, 31, who currently has asylum in Russia, reiterated that he would not return to the United States unless offered a "fair trial".
"I am working very hard with my lawyers to try to get reliable guarantees of a fair trial. Unfortunately the Department of Justice is unwilling to agree in that regard.
"The only thing they have said at this point is that they would not execute me, which is not the same as a fair trial," he said.
Under current Swiss laws, an applicant has to be on Swiss territory to lodge an asylum request.