Ukraine crisis tops agenda in Renzi's first official visit to Moscow
Comments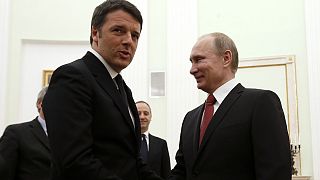 Italy's Prime Minister Matteo Renzi has become the latest EU leader to meet Russian President Vladimir Putin.
The situation in eastern Ukraine was high on the agenda in Renzi's first official visit to Moscow since taking up the post.
Putin acknowledged the situation in the region remains difficult, but added "at least the fighting has stopped, people are not being killed and cities are not being destroyed."
"We agreed that the parties involved in the conflict must strictly comply with the Minsk peace deal, struck on February 12," he continued. "I'm sure this opens up the possibility for a wide-ranging peace settlement and, of course, for setting up a direct dialogue between Kyiv, Donetsk and Luhansk."
Renzi floated the idea that Italy's experience in decentralising power could be of assistance to the Kyiv government.
"It's clear to everybody that the problems of autonomy and decentralisation in Ukraine could be solved through reforms," he said.
He noted restrictions and counter-restrictions are causing problems for all involved in the sanctions battle, but added:
"There is room to collaborate, even with the difficulties we're all aware of lying in the background, such a European sanctions and Russian counter-sanctions."
Prior to the meeting, Renzi visited an impromptu memorial for murdered opposition leader, Boris Nemtsov.
A strong and very vocal critic of Putin, Nemtsov was shot dead last Friday, within metres of the Kremlin.
Investigators have yet to make any real progress in the case.