Severe weather kills at least 2 in Italy
Comments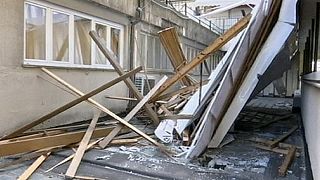 Strong winds and heavy rain have resulted in the deaths of at least two people in Italy.
The central region of Tuscany has been one of the worst areas affected. Near to the city of Lucca, a 41-year-old man died when his car was hit by a falling boulder. His female passenger escaped uninjured.
Heavy winds in the Marche region uprooted a tree, killing a woman as she walked to work.
Local authorities have closed roads, while in Lazio flooding and uprooted trees blocked routes into the capital,postponing a meeting between regional governors and newly-elected President Sergio Mattarella.
Schools were closed as a combination of heavy rains and gale-force winds caused destruction across the district.
The River Misa flooded and roofs have been blown off buildings in Liguria, Abruzzo and Marche, while in Tuscany the bad weather caused power cuts.
Conditions are expected to improve by Friday morning (March 6).