Kerry underlines there is no viable alternative to nuclear talks with Iran
Comments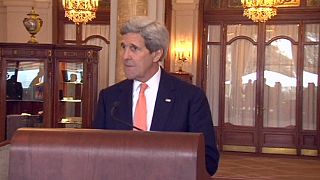 Close but still much to do – that was the message from US Secretary of State John Kerry after the latest round of talks on limiting Iran's nuclear programme.
...simply demanding that Iran capitulate is not a plan
Before leaving Switzerland to brief Gulf leaders, Kerry alluded to Tuesday's congressional address by the Israeli premier in which he demanded sweeping concessions from Tehran.
"We know that no-one has presented a more viable, lasting alternative for how your actually prevent Iran from getting a nuclear weapon. So folks, simply demanding that Iran capitulate is not a plan, and nor would any of our P5+1 partners support us in that position."
(The P5+1 are the US, Russia, China, France, Britain, and Germany)
Senior diplomats will meet again today (March 5) before higher level talks resume on the March 15. Neither side seems prepared to allow external pressures to influence the pace.
"There are gaps that need to be filled, serious ones. But that doesn't mean that we are not capable of moving forward. We have one very serious problem and that is there is a great deal of pressure that is being imposed by warmongers," said Iran's Foreign Minister, Mohamad Jawad Zarif:
Late March is the deadline for an outline of an accord between Iran and six world powers.
Meanwhile Benjamin Netanyahu has been strongly criticised for saying the US-led talks are paving the way to Iran having a bomb.