Israeli PM's passion if not message is appreciated by both sides of US Congress
Comments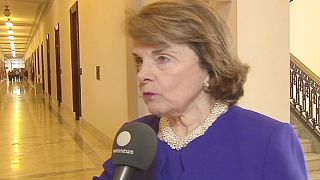 Much had been written ahead of Israeli Prime Minister Benjamin Netanyahu's address to the US Congress – most of it in wonder at the Israeli leader's audacity in appealing over the head of President Obama for help in sinking a deal with Iran.
" if there was no deal....how would you stop Iran, if Iran decided to go for a bomb."
Reaction after the event depended on whether style or substance was the goal.
"I thought it was an excellent speech. I have been in Congress for 23 years, this was the strongest and most positive reaction I have seen to a foreign leader. Obviously, he was in a very sensitive position, but I thought he handled it extremely well. He was respectful but very firm, very forceful," was the opinion of Republican Peter King.
For those Democrats like Dianne Feinstein who had not boycotted the speech, something was lacking:
"What I was hoping he would do is say how a deal could be better in what specific ways. And secondly, if there was no deal, how would the area be better off, how would you stop Iran, if Iran decided to go for a bomb."
Either way Benjamin Netanyahu's passion and sincerity appears to have been appreciated by both sides. Our correspondent in Washington, Stefan Grobe said:
"The reactions to Prime Minister Netanyahu's speech were basically along party lines with Republicans being more cheerful than the Democrats. But he certainly left a big impression on all members of Congress."
New poll reveals that among Americans the partisan divide on #Netanyahu is expanding sharply: http://t.co/glLqMhJxtPpic.twitter.com/JO067YcRfo

— Brookings FP (@BrookingsFP) March 3, 2015