Liberian schools reopen after long closures due to Ebola
Comments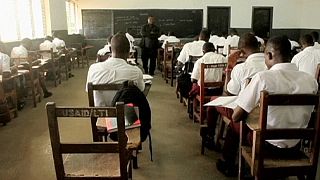 It is finally back to school for many students in Liberia after seven months of no classes.
The Ebola outbreak forced authorities to close many schools to stop the spread of the deadly virus.
More than a million children were affected, and many had to rely on lessons via the radio.
Student Alice Beh said: "Reopening school while the Ebola crisis is still on looks bad, but we just have to go through this because we can't sit home and do nothing and not continue our education. That would be bad."
Some schools reopened a month ago, but many were not ready to accept students. And for some, it is now too late to return to school.
Teacher Clarence Pillepor said: "We should take into consideration the children; there are many of them who won't come back to school, because while they were home there were lots of things they got involved with. Some got pregnant, some of them got jobs."
Many schools have reopened with new facilities, including equipment for the taking of temperatures and hand washing stations.
Teachers have also been trained in implementing safety measures.