Bremen police downgrade terror alert
Comments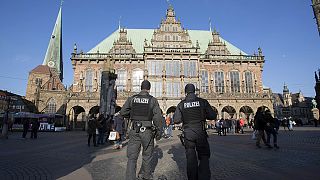 Police in the German port city of Bremen have downgraded their terror alert after Saturday's warning of a possible attack from Islamist extremists.
A search of an Islamic culture centre and the apartment of a Lebanese suspect have produced no weapons. Two people who were earlier arrested have now been released.
In a statement the city's police chief said security in central Bremen had been slightly reduced on Sunday but police officers were still providing the Jewish community with more protection than normal.
Bremen is reportedly considered an Islamic extremist stronghold with more than 300 Salafists said to be in the city since autumn. Police claim intelligence sources have indicated that some have been trying to get hold of weapons.