Stand-off at 'anti-Islamisation' march in north-east England
Comments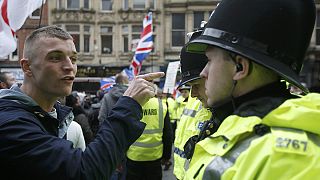 In England around 2,000 people gathered in the northeastern city of Newcastle to protest against a march held by the British branch of the German anti-Islamisation group Pegida, who numbered around 400.
Pegida, which stands for 'Patriotic Europeans Against the Islamisation fo the West', has previously held marches in Germany, mainly in the northern city of Dresden.
It is the first time the group has held a protest in Britain.
Police had to keep the two groups apart in central Newcastle and said five arrests were made.