Protesters clash with IOC over Rio golf course
Comments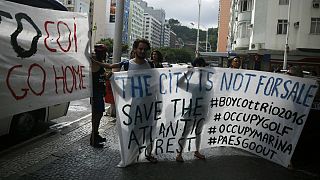 The controversial Rio Olympic golf course was once again in the spotlight when environmental activists forced their way into the International Olympic Committee's hotel Saturday.
The small group was protesting about the destruction of the nature reserves on which the golf course was built and the lack of progress in treating sewage, an issue the Rio Olympic organising committee had pledged to improve in their bid plan.
"We are not against the Olympics, but we are against the corruption around the golf course that is being arranged by the mayor (Eduardo Paes)," said Jean Novaes, representing the "Golf for Whom" group. "They are stealing with the Olympics as an excuse."
Rio Mayor Paes, who had been supportive of the Games from the start, is currently facing an inquiry into alleged misconduct into the construction of the golf course. A public prosecutor is also considering a lawsuit against the 46-year-old for granting concessions to the golf course developer who will build 140 luxury apartments priced between $2-7 million.
The ugly scene was witnessed by dozens of journalists who were waiting for the IOC President's Press Conference which was due to start around that time.
"We hope the foreign journalists inside will wake up over this, to know what is going on in our city," said another activist, who said he was a geologist.
Mark Adams, the IOC Communications Director, arrived shortly after to discuss with the activists and held a meeting with the protesters.
In defense, the IOC President Thomas Bach said "the golf course did not cost the taxpayers any money – it has been privately financed."
"The golf course will be the first in Rio de Janeiro which will be open for the public. The two golf courses here are private clubs and not affordable to the vast majority."
"With regard to the bay, I think we all agree, we would not speak about cleaning of the Guadalajara bay if there would not be the Olympic Games. I am satisfied to see that thanks to the Games, progress has already been made."
By Hugo Lowell