Reichelt leads Austrian clean sweep in Germany
Comments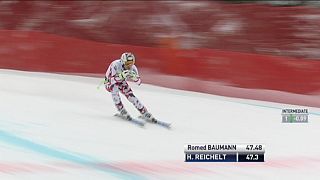 Hannes Reichelt produced yet another flawless run to lead Austria to their second downhill podium sweep in succession in Garmisch-Partenkirchen on Saturday.
Fresh from his victory in Wengen, the Super-G champion outclassed his opponents in both training sessions and carried his momentum into the final race to clinch his 10th career World Cup victory.
Reichelt overcame poor weather conditions to complete the Kandahar course in an impressive time of one minute and 11.90 seconds, edging out compatriot Romed Baumann by the narrowest of margins with Olympic champion Matthias Mayer completing the podium, 0.24 seconds off the pace.
This win sees Reichelt close the gap on Kjetil Jansrud in the downhill World Cup standings. The Norwegian endured a disappointing day and eventually had to settle for 19th place. He now has a total of 469 points, 84 ahead of Reichelt with Dominik Paris sitting third.