Mexico's most-wanted drug lord 'La Tuta' is arrested
Comments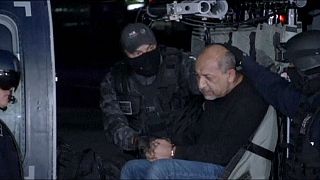 Authorities in Mexico say they have captured the country's most wanted drug lord. The arrest on Friday of Servando "La Tuta" Gomez, is much-needed boost to the credibility of a government reeling from gang violence.
The 49 year-old former primary school teacher is the leader of the so-called Knights Templar cartel, who have been involved in a vicious struggle with armed vigilantes trying to oust them from Michoacan state in the west of Mexico.
Monte Alejandro Rubido is the country's Security Commissioner:
"Servando Gomez Martinez has eight arrest warrants outstanding and is linked to several ministerial crimes such as kidnapping, extortion, homicide, arms and drug trafficking – mainly crystal meth".
Special forces detained Gomez as he left an apartment early on Friday morning in the state capital Morelia.
Gomez was known for appearing on youtube railing against the police who he claimed were in league with rival gangs.
He has described the Knights Templar as a "necessary evil" and was the prime target in President Nieto's crackdown on the cartels.