Floral tributes left at scene of Nemtsov murder in Moscow
Comments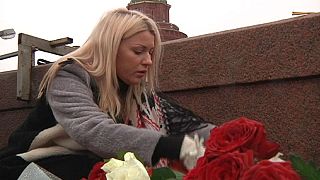 At the scene of the fatal shooting of Russian opposition figure Boris Nemtsov, people have been paying their respects, many leaving floral tributes.
One of those gathered, Vadim Gutnik, told euronews:
"I'm really grieving for Boris. I knew him personally and worked as his volunteer assistant. Now that's all in the past tense, unfortunately. For me it's a great tragedy."
Another man, Alexander Nakhimson, told euronews: "He seemed to me to be honest, open, a wonderful person, reckless, joyful, beautiful. Yes, it's a great tragedy that he's gone."
Dmitry Koshevoy said: "I did not like him as a figure, I can say that openly. But the fact that he was killed, and killed in such a way and in such a place – I think it's really a shot in the back of civil society."
As investigations get underway, there is already surprise that the killing could have happened in such a high-profile location.
Euronews correspondent in Moscow, Andrei Belkevich, reported: "The place where Boris Nemtsov was killed is about two hundred metres from the Kremlin, probably one of the most protected places in the country.
"Police patrol here constantly and literally every metre is traceable by surveillance cameras. But that did not prevent criminals from carrying out their plan."