Ukraine makes new gas payment to Russia amid supply threats
Comments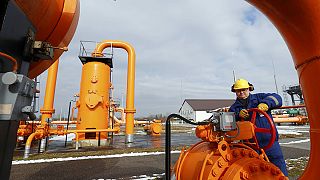 Just days after Moscow again threatened to cut off gas supplies to Ukraine for non-payment, Russia's state-owned Gazprom says it has received a new payment.
However, the sum – reportedly the equivalent of more than 13 million euros – is not seen as enough to resolve what is turning into a new energy dispute.
Moscow, Ukraine and the EU are due to hold talks in Brussels on Monday, amid the prospect that onward gas deliveries to Europe could be disrupted.
Part of the row is over who should pay for Russian gas delivered to rebel-held areas in eastern Ukraine.
Kyiv stopped but then resumed supplies last week and Moscow said it could directly supply Donetsk.