Atheist US blogger killed in machete attack in Bangladesh
Comments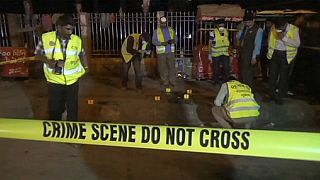 A machete-wielding mob has hacked to death a blogger in the Bangladeshi capital Dhaka.
Avijit Roy, A US citizen of Bangladeshi origin, was an atheist who advocated secularism in the Muslim-majority nation.
Witnesses say he and his wife were set up while returning from a book fair.
School teacher Kazi Shawkat said: "I saw someone bring out a big knife and hit him on his head and shoulders. I shouted for help but nobody came to save him. A woman with him was also hit on the shoulder."
The attack is the latest in a series of assaults on writers who support freethinking values and comes amidst a crackdown on hardline Islamists.
Authorities say an Islamist extremist group called Ansarullah Bangla Team, has claimed responsibility for the murder but no arrest have yet been made.