Islamic militants wreak havoc on Iraqi antiquities
Comments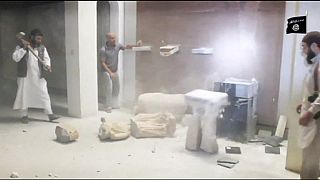 Startling images have been released by hardline Islamist militants in northern Iraq of the destruction of a collection of priceless statues and sculptures.
In a video published on online, Islamic State members wield sledgehammers and drills to attack the artefacts, some of them identified as antiquities from the 7th century BC.
For ISIL they represent symbols of idolatry. The articles destroyed appear to come from an antiquities museum in the northern city of Mosul, which was overrun by Islamic State last June.
Some archaelogists say the militants have wreaked incalculable damage and have compared their exploits to the dynamiting of the Bamiyan Buddas by the Afghan Taliban in 2001.