Bin Laden aide guilty of conspiracy in embassy bombings
Comments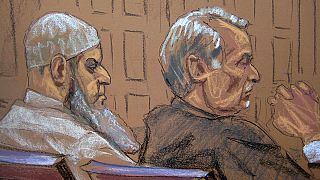 A former senior aide of Osama bin Laden has been found guilty of plotting the US embassy bombings by al-Qaeda that killed 224 people in 1998.
Khalid al-Fawwaz was convicted by a court in New York after being extradited from the UK in 2012.
He now faces a possible life sentence after being found guilty on four counts of conspiracy
A dozen Americans were killed in the embassy bombings in the Kenyan capital Nairobi and Dar Es Salaam in Tanzania.
The court heard as US attorney accuse al-Fawwaz of having played a "critical role for al-Qaeda in its murderous conspiracy against America".
He was arrested in London in the same year as the bombings.
Al-Fawwaz declined to give testimony at his US trial, which lasted a month.