Police officer arrested after killing of 14-year-old boy during clashes
Comments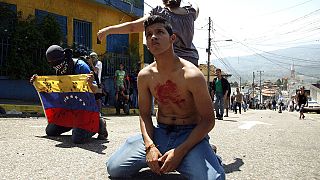 A police officer in Venezuela has been arrested after confessing to shooting Kluiver Roa, a 14-year-old boy, with a rubber bullet during clashes with protesters in the city of San Cristobal.
...I have marks on my arm from the police who didn't want me to help this child, it's not right.
Local media reported that the Roa's father was a member of a political opposition party.
Glenda Lugo, who witnessed the shooting, said she tried to help the injured teen and was ordered by police to leave him to them.
:
"It's unfair. I have marks on my arm from the police who didn't want me to help this child, it's not right. Why? Because after they shot him, they wanted to take him away," she said, adding that she persisted in asking why. "Because they didn't want to leave the evidence," she concluded.
Officials said the Roa died on the way to hospital.
He was only 14 years old and was murdered by this socialism BarackObama</a> <a href="https://twitter.com/MichelleObama">MichelleObamabillclinton</a> <a href="https://twitter.com/hashtag/Venezuela?src=hash">#Venezuela</a> <a href="http://t.co/hGIEZYhQHI">pic.twitter.com/hGIEZYhQHI</a></p>&mdash; mandarina (12mandarinas) February 25, 2015
Venezuelan President Nicolas Maduro had ordered a swift investigation of the incident and for those responsible to be held to account.
"I condemn this killing," said Maduro. "I was in Trinidad when I heard and ordered the immediate investigation and capture of those responsible, and that has been done. Those responsible for this are in custody."
High tensions amid food shortages
Tensions are running high in Venezuela because of a deepening economic crisis, widespread food shortages and a crackdown on the political opposition.
The government changed its policy last month to allow security forces use lethal force to control violent protests.
The country's defence minister said the new law was in response to three months of intense street protests last year.
Human Rights Watch had documented security officials repeatedly using unlawful force against unarmed people.
Now forces have the legal authority to open fire at protesters.
Opposition incensed by boy's killing
The opposition was incensed by Roa's death, saying it shows repression of protesters and augurs a broader crackdown.
"There are no words to transmit my pain and indignation," said hardline opposition leader Maria Corina Machado.
"They've killed a 14 year-old child. A kid protesting with his classmates."
In an uncharacteristically strong statement, state ombudsman Tarek Saab condemned the death as a "vile assassination."