Kerry accuses Russia of lying over Ukraine involvement
Comments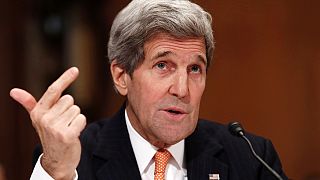 US Secretary of State John Kerry has told American lawmakers that Russian officials repeatedly lied to him about their support for separatists in eastern Ukraine.
Testifying before the Senate Foreign Relations Committee on Tuesday, he said Russia was engaged in the most "overt and extensive propaganda exercise" since the Cold War.
"They have been persisting in their misrepresentations, lies, whatever you want to call them, about their activities there to my face, to the face of others on many different occasions," said Kerry.
Moscow has denied it is funding the rebels in two eastern regions of Ukraine.
The US has yet to confirm whether it will arm the Ukrainian military. But UK military personnel are to head there to train Ukrainian troops.
Prime Minister David Cameron told Britain's parliament on Tuesday that up to four teams – based far away from conflict zones – would provide intelligence, logistics and command support.
Despite the Minsk peace agreement reached two weeks ago, a ceasefire is yet to hold in most of the fighting areas.
The Ukrainian military has dismissed claims of a pullback from the frontline by rebels, accusing them of regrouping their men and weapons.
Kiev's military repeated that it would not start pulling back its weapons until the shooting stopped.
But rebel commander for Donestsk region Eduard Basurin insisted the withdrawal had begun:
"We started today (Tuesday). The pullback of weaponry started from four towns, these are Debaltseve, Horlivka, Donetsk and Telmanove," said Basurin.
An international monitoring mission in Ukraine says it can't confirm whether any pullback has taken place:
"We are not in a position at the moment to verify the removal of heavy weaponry because this baseline information has not been provided. The cease-fire is not holding in key strategic locations: we are talking about Debaltseve, we are talking about Donetsk. We are also talking about Mariupol to," said OSCE spokesman Michael Bocirukiw.