Spain's election tremors thought likely to crescendo through 2015
Comments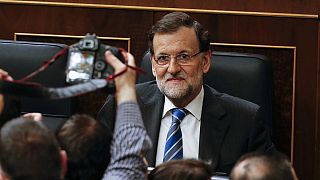 Spain's election year promises to be busy. It is expected that the parliamentary poll at the end of it will change the essentially two-party system that has been in place since the end of the 1970s transition to democracy. Spaniards appear determined to upset the chess board starting with municipal and regional elections in May, with a foretaste in March, in Andalusia.
This is because Spaniards don't feel the upswing in the economy yet. There was 1.4 percent growth in 2014, and the forecast for this year is 2 percent.
They aren't feeling it because unemployment remains obstinately high, a punishing more than 23 percent, with little prospect of any swift reduction, in spite of a slight easing, two years in a row.
Spaniards have also felt the impact of extensive cuts in public spending, part of the centre right government's austerity policies. Cash help for families with children is among the lowest in the European Union, at around 24 euros per child per month, and only for households earning less than around 11,000 euros per year.
Spain has also become the country with the greatest wealth inequality after Latvia, its redistribution debit higher than next-on-the-list Portugal, Greece and Ireland, according to Eurostat.
The labelling of the government as one that perpetuates this inequality has not, actually, helped its historic opponents the Socialists, but rather the party Pedemos, of the far left, formed one year ago. It has been campaigning to end austerity and corruption, but its voter pool is robustly contested by others of the left.
One of those is Ciudadanos, whose leader Albert Rivera is from Catalonia, and although he is against that region's independence movement he is nevertheless the conservative Partido Popular's number one threat.
A survey of voter intentions taken by El Pais newspaper in February showed Podemos in first place and Ciudadanos in fourth place — neither party even in parliament now. Both condemn the parties traditionally in power as rampantly corrupt.
This has been highlighted by the scandal surrounding former PP treasurer Luis Bárcenas. He has just been released from prison after a stay of 19 months (imposed as he was considered a flight risk). The Bárcenas corruption investigation continues, holding the potential for further embarrassment for his party during campaigning. Corruption and jobs are what worry Spaniards the most.