New Gothic 20 euro note revealed
Comments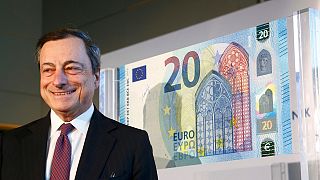 The eurozone will have a new 20 euro banknote later this year.
The European Central Bank (ECB) has unveiled the new note which has enhanced security features as well as a fresher look.
Here is what the new €20 note looks like, in your pocket in November 2015. pic.twitter.com/caCU00zvyL

— euronews (@euronews) February 24, 2015
Along with the five and ten euro notes, relaunched during 2013 and 2014, the new 20 euro note is part of the new Europa series, named after a figure from Greek mythology. The series shows architectural styles from seven periods in Europe's cultural history.
€5: Classical
€10: Romanesque
€20: Gothic
The remaining notes in the series not yet unveiled are:
€100: Baroque and rococo
€200: 19th-century iron and glass architecture
€500: 20th-century architecture
Difficult to forge
The design of the new 20 euro note has had a radical overhaul and should prove much more difficult to forge.
The 20 euro note currently in circulation is one of the most forged. According to the ECB, the proportion of forged 20 euro notes increased as the number of counterfeit 50 euro notes fell in the second half of 2014. Together they accounted for 86 percent of counterfeit notes.
The German Bundesbank estimates that four or five industrial-scale operations, mainly in Italy, produce 80% of the forgeries but notes that members of the public are unlikely ever to encounter a fake.
How to spot a fake
Genuine bank notes are firm and crisp and have raised print. They have a watermark on one side and a security thread integrated into the paper.
When tilted, parts of the notes including the numeral, change in the light.
The new 20 euro note also incorporates a hologram.
How is it produced?
The new 20 euro note will be introduced during November 2015. The second most popular denomination, after the 50 euro note, there are around 3 billion in circulation.
Around 16 high-security printing works in Europe, some privately run but all working on behalf of national central banks, will produce 1.7 billion new notes this year. The ECB has not announced a timescale for phasing out the old notes.
Like their predecessors, the new notes are produced from cotton fibre which is more hard-wearing than paper.